Event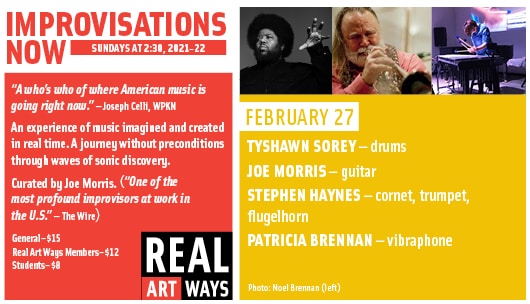 EVENTS
Improvisations Now - February 27
Checkout the whole series!
Newark-born composer and multi-instrumentalist Tyshawn Sorey (b. 1980) is celebrated for his incomparable virtuosity, effortless mastery and memorization of highly complex scores, and an extraordinary ability to blend composition and improvisation in his work. He has performed nationally and internationally with his own ensembles, as well as artists such as John Zorn, Vijay Iyer, Roscoe Mitchell, Muhal Richard Abrams, Wadada Leo Smith, Marilyn Crispell, George Lewis, Claire Chase, Steve Lehman, Jason Moran, Evan Parker, Anthony Braxton, and Myra Melford, among many others.
The New York Times has praised Sorey for his instrumental facility and aplomb, "he plays not only with gale-force physicality, but also a sense of scale and equipoise"; The Wall Street Journal notes Sorey is, "a composer of radical and seemingly boundless ideas." The New Yorker recently noted that Sorey is "among the most formidable denizens of the in-between zone…An extraordinary talent who can see across the entire musical landscape."
Sorey has composed works for the Los Angeles Philharmonic, the International Contemporary Ensemble, soprano Julia Bullock, PRISM Quartet, JACK Quartet, TAK Ensemble, the McGill-McHale Trio, bass-baritone Davóne Tines, Alarm Will Sound, the Louisville Orchestra, and tenor Lawrence Brownlee with Opera Philadelphia in partnership with Carnegie Hall, as well as for countless collaborative performers. His music has been performed in notable venues such as the Walt Disney Concert Hall, the John F. Kennedy Center for the Performing Arts, the Village Vanguard, the Ojai Music Festival, the Newport Jazz Festival, the Kimmel Center, and the Mostly Mozart Festival at Lincoln Center. Sorey has received support for his creative projects from The Jerome Foundation, The Shifting Foundation, Van Lier Fellowship, and was named a 2017 MacArthur fellow and a 2018 United States Artists Fellow.
Sorey has released twelve critically acclaimed recordings that feature his work as a composer, co-composer, improviser, multi-instrumentalist, and conceptualist. His latest release, Pillars (Firehouse 12 Records, 2018), has been praised by Rolling Stone as "an immersive soundworld… sprawling, mysterious… thrilling" and has been named as one of BBC Radio 3's Late Junction 2018 albums of the year.
In 2012, he was selected as one of nine composers for the Other Minds Festival, where he exchanged ideas with such like-minded peers as Ikue Mori, Ken Ueno, and Harold Budd. In 2013, Jazz Danmark invited him to serve as the Danish International Visiting Artist. He was also a 2015 recipient of the Doris Duke Impact Award. Sorey has taught and lectured on composition and improvisation at Columbia University, The New England Conservatory, The Banff Centre, University of Michigan, International Realtime Music Symposium, Harvard University, Hochschule für Musik Köln, Berklee College of Music, University of Chicago, and The Danish Rhythmic Conservatory. Sorey will join the composition faculty of the University of Pennsylvania in the Fall of 2020.
Stephen Haynes is an improvising composer, teaching artist, arts organizer and advocate; a product of the historic and fertile Black Music Division at Bennington College, directed by Bill Dixon. His early foundational studies were with the wonderful Frank Baird, who chaired the brass department at the University of Colorado's Boulder campus during the sixties and seventies. Stephen currently leads several ensembles: Parrhesia (a trio w/Joe Morris and Warren Smith) and Pomegranate (a quintet with Ben Stapp, William Parker, Joe Morris and Warren Smith. His debut recording as a leader, Parrhesia, is on the Engine Studios label. With Joe Morris, he curates the long-running music series, Improvisations, at Real Art Ways. He is very concerned with the plight of the local artist in his/her hometown and region, and with the importance of well-developed support for those of us who enjoy working close to home and being treated properly. Over the years  Stephen has worked with a range of musicians, with a primary interest in large ensembles and composition: Bill Dixon, George Russell, LaMonte Young, Butch Morris, Rhys Chatham, Adam Rudolph, Leroy Jenkins, JD Parran, Gunter Hampel, Cecil Taylor and the Dells.
"A vibraphonist to watch out for…" according to the New York City Jazz Record, mexican born vibraphonist, marimbist, improviser and composer Patricia Brennan has always been surrounded by music. She inherited a deep love and appreciation for musical tradition from both parents, as well as being exposed to the musical richness of her native Port of Veracruz. She started studying music at 4 years old, playing latin percussion along salsa records with her father and listening to Jimi Hendrix and Led Zeppelin records with her mother. Also, around the same age, she started playing piano, influenced by her grandmother who was a concert pianist.
At the age of 17, Patricia was selected from musicians all over the Americas to be part of the Youth Orchestra of the Americas. During this time, she toured every country in the Americas and performed with renowned musicians such as Yo-Yo Ma and Paquito D'Rivera. Before moving to the U. S., Patricia was already performing with the top symphony orchestras in Mexico, such as Xalapa Symphony Orchestra and Mineria Symphony Orchestra. Also, she had already won several awards on marimba competitions and young artist competitions in Mexico and abroad and was featured in the "Líderes Mexicanos" magazine in 2003. She was accepted at the prestigious Curtis Institute of Music in Philadelphia, where she was able to perform alongside high caliber musicians from all over the world and conductors such as Simon Rattle and Charles Dutoit. She also performed with the prestigious Philadelphia Orchestra and other acclaimed new music groups such as members from Eight Blackbird.
Patricia's search for freedom in her musical expression led her to find her voice through the vibraphone and mallet percussion in improvisational music and composition.
The New York Times observed, "Brennan has recently started to make her presence known on the New York avant-garde, working with such prominent bandleaders as Matt Mitchell and Michael Formanek." Patricia is a member of Grammy nominated John Hollenbeck Large Ensemble and Michael Formanek Ensemble Kolossus. She is also a member of Phalanx Ambassadors, a project led by pianist Matt Mitchell, the Webber/Morris Big Band, and she is also a member of Tomas Fujiwara's 7 Poets Trio along with cellist and composer Tomeka Reid. She has also collaborated with pianist Vijay Iyer as a member of Blind Spot with writer Teju Cole, along with bassist Linda Oh. Other projects led by Iyer that Brennan has performed include his large ensemble project Open City and several small ensemble performances along with renowned musicians like bassist Reggie Workman and trumpeter Wadada Leo Smith. Among Patricia's own projects include the newly recorded solo project MAQUISHTI, MOCH – a collaborative duo with percussionist, drummer and turntablist Noel Brennan (DJ Arktureye) plus special guests, and a newly formed quintet.
Patricia has performed with many renown musicians including singer and composer Meredith Monk and Theo Bleckmann, saxophonists Jon Irabagon and Scott Robinson, trumpeter Ambrose Akinmusire, drummer Marcus Gilmore, guitarist Mary Halvorson and many others. She has performed in venues such as Newport Jazz Festival, SF JAZZ, and Carnegie Hall, as well as international venues such as Wiener Konzerthaus in Vienna, Austria, Palacio de Bellas Artes in Mexico City and Teatro Colón in Buenos Aires, Argentina. She has also appeared on National Television, Public Radio and recently on the BBC radio show "Freeness" hosted by Corey Mwamba.
Patricia has appeared on several recordings, including an ECM recording with Michael Formanek Ensemble Kolossus called "The Distance" and Matt Mitchell's featured recordings "A Pouting Grimace" and "Phalanx Ambassadors" under Pi Recordings. See Projects + Discography for full catalog. Also, Patricia recorded a new record with the Grammy nominated John Hollenbeck Large Ensemble called "All Can Work" under New Amsterdam Records which was released in January 2018 and nominated for a Grammy in 2019. Patricia recently released her debut solo album called "Maquishti" on January 15, 2021 under the label Valley of Search.
Patricia Brennan is a Valley of Search artist, a BlueHaus Mallets artist and currently teaches at the New School for Jazz and Contemporary Music and at the Jazz Studies program at NYU Steinhardt.