"Creative Cocktail Hour is always an inspiring and unique event filled with an invigorating cross section of people. I'm continually surprised, warmed and sparked by my encounters with, and conversations about art, music and film. I appreciate the expanded and inclusive community." – Maggie Nowinski, Interdisciplinary Artist
Creative Cocktail Hour represents the best of Real Art Ways. For 16 years we've gathered on the third Thursday of every month to celebrate people. Why do we do this? It's simple: our community inspires us.
Each month we ask:
"What interesting things are happening out there? Who can we bring together?"
We delve into a real process with real people to ignite meaningful collaboration. We create a space for people to be recognized, welcomed and supported. People make deep and enduring connections here.
Every month we present local, national and international artists, creative leaders, and visionaries who share their gifts and talents. From performances, readings and storytelling to local food, live music and dancing, Creative Cocktail Hour is a night of excitement and celebration.
Everyone is welcome! All ages, all backgrounds.
(Image above: Denis Semenyaka | @thedayswelive)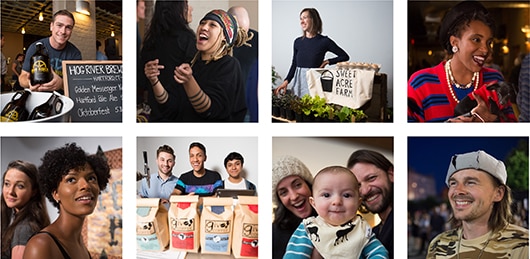 December
– Holiday Market – Vendors include:
Kate Stephens – CT Furniture Company – Suburban Farm Girl – Quilting After Dark – Wild Woman Twin Flame – By The Sea Home – Hartford Prints! – Sally Tomiko Pottery – Liz Pagano Jewelry – Kiara Matos – Sarah Rose Nunes Aromajewelry – Connected Kitchen – Jaime Jones – Elisabeth Nicholas

– New Exhibition – Real Wall: Keri Halloran – Opening 6-8 PM – Meet the artist.
– Five Exhibitions on view:
Lauren Bakst: Group (NEW)
Hong Hong: Dark Segment
Maggie Nowinski: Drawn Whole
Sofia Plater: Cultch
Belam Soto: Intangible Proximity
– Bicyclists – Ride to Creative Cocktail Hour and get in for $5. RAW members on bikes get in free.