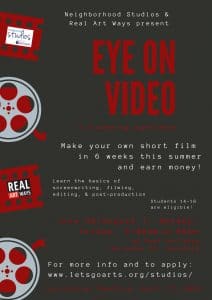 Eye on Video is part of the Greater Hartford Arts Council's Neighborhood Studios program, which provides teens the opportunity to learn artistic skills from a Master Teaching Artist, as well as career-skills training to prepare them for today's creative workplace. Each student also receives a weekly stipend so they don't have to choose between a quality arts education and a summer job.
15 selected students learn from a Master Teaching Artist and create short films that are screened publicly in our cinema. No experience required.
Download application here 
Deadline is April 17, 2020
• Digital camera operation, screenwriting, editing, collaboration, and post-production skills will be covered.
• High school students 14-18 are eligible. Students entering freshman year and those who just graduated from high school are also eligible.
• The program runs from June – August. Participants must attend all program dates.
• Students must live in a town within the Greater Hartford Arts Council service area.
• $100/week is paid to accepted participants.