Home Arts Artist Submissions Real Art Awards and Exhibitions
---

CALL FOR ENTRIES:
Emerging artists living and working in New England, New York, and New Jersey are invited to submit their work for consideration for The Real Art Awards at Real Art Ways. Jurors will consider the quality of the artist's work, the innovation evidenced by submitted work, the potential impact of the exhibition on the artist's career and the economic and physical feasibility of the exhibition. Artists should submit work made within the last 3 years. Artists working in all media are welcome.
In addition to a $2,500 prize, six artists will receive a solo exhibit at Real Art Ways in 2020 or 2021, an exhibition publication with essay, curatorial assistance, and the opportunity for an artist talk.
DEADLINE: March 31, 11:59 EDT, 2020
JURORS:
Kemi Ilesanmi, Executive Director, The Laundromat Project
Mary Mattingly, Artist and Educator
Will K. Wilkins, Executive Director, Real Art Ways
A PDF containing a full description, including rules, eligibility requirements, and submission guidelines to apply, may be downloaded from this link: 2020 Real Art Awards Rules
The PDF FAQ is available for download here: 2020 Real Art Awards FAQ
The 2020 Real Art Awards is supported in part by an award from the National Endowment for the Arts.
________________________
The 2019 recipients were: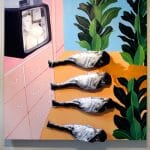 Jeanne Jalandoni: New York, New York
Jeanne Jalandoni culls from her Filipino-American identity to create assemblages, paintings, and tapestries that point towards the confusion of a bicultural upbringing. Her work utilizes the languages of domesticity (food, television, home life, etc.) to tell a story so specific it becomes accessible and relatable to a wider audience.
Work sample: Lounge; Acrylic, Oil, Screenprint, Plushies on Canvas 56" x 55" – 2018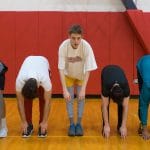 Julian Johnson: Middletown, Connecticut
The photographs of Julian Johnson start with a sense of narrative play. Utilizing personal experiences with mental illness, his Marfan Syndrome, and relationships, Johnson's imagery dances a delicate line between documentarian and studio photography. Always full of things to discover, his photographs fill the viewer with detail and consideration in each composition.
Work sample: Toe Touch; Digital image – 2018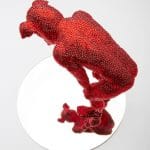 Seunghwui Koo: Cliffside Park, New Jersey
As a child of a Korean butcher, Seunghwui Koo is interested in the many ways animals like pigs can be used and interpreted as symbolic. Considered lucky in Korea, and greedy in America, Koo has explored the pig form in a multitude of combinations with the human figure. Obsessive compositions of hundreds of hand sculpted pigs reference greed, food, conformity, luck, and a variety of other mixed signals depending on cultural frame of reference.
Work sample: Narcissism #Red; Resin covered with crystals, mirror on wood base, 14.5"x 14"x 14" – 2017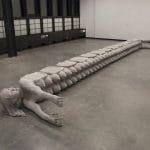 Catalina Ouyang: New Haven, Connecticut
The sculptures and installations of Catalina Ouyang evoke the tropes and aesthetics of villains and monsters as a metaphor for marginalized identities. Utilizing mythos both within and outside her Chinese-American heritage, Ouyang creates objects, sculptures, and performances that question the demonization of women, people of color, and queer identities, while simultaneously embracing the moniker.
Work sample: bitch bench; polystyrene, plaster, steel, Celluclay, wood, epoxy clay, resin; 14" x 228" x 37"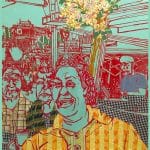 Athena Rigas: New York, New York
Athena Rigas is an artist who roots her paintings within her experiences as a synesthetic, where sound can affect her sense of sight. Within these overlaps comes larger metaphors surrounding her mixed upbringing as a first generation child of Greek immigrants in New York. Her paintings create a cacophonic experience of patterns, textures, and cultures mashing together.
Work sample: After The Story With My Father's Glass Eye, I Was Suspicious Even Of Those Whose Eyes Were Real; Oil paints, collaged fabric on canvas; 60" x 60" – 2018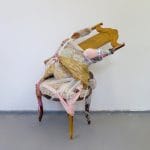 Shannon VanGyzen: Providence, Rhode Island
Shannon VanGyzen utilizes a mixture of sculptural techniques in painting-like formats, creating a tension between the two disparate media that furthers her ideas surrounding socioeconomic class and status. Furniture forms reference wealth and stability while being recontextualized into twisted, distorted structures.
Work sample: Hang In There; Found chairs, curtains, pillows, fringe, embroidery floss, bed sheet, tulle, latex paint; 48" x 42" x 36" – 2016
________________________
The 2018 recipients were: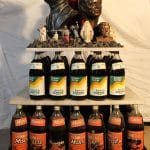 Keith Clougherty: Braintree, Massachusetts
Clougherty blends traditional practice with social practice and video as he explores the role of the artist in society, family, and community.
Work sample: Moxie Tower. Granite slabs, coal, antique beverages, assorted figurines. 38" x 52". 2018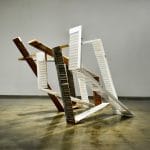 Kylie Ford: Portland, Maine
Ford applies her mastery of woodworking and craft to repurposed materials. Formerly utilitarian structures bend in ways unintended by their original manufacturers, creating something that is both familiar and alien.
Work sample: Object Analogy, 2018, wood and steel, 52″ x 36″ x 48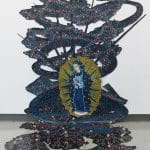 Mateo Nava: New York, New York
Nava's use of Mexican imagery, and his simultaneous rejection of the traditional painting format of stretched canvas on a wall, creates a visceral commentary on sentimentality and nostalgia.
Work sample: La llorona, acrylic, dye, fabric, photographs, canvas, paper, glitter, confetti, faux flowers – 2016 – 96″x 75″x 60″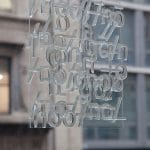 Liona Nyariri: Brooklyn, New York
Nyariri's work examines how an institution understands a collection and the relationships with its creators, especially in the context of colonization and migration. She brings to light the nature of systems, and explores how language and mythology intertwine.
Work sample: The Pidgin /hoo/ /no/ /no/ /go/ /no/ (window to another world) installation view – Clear resin, plexiglass, clear glue – 8″ x 11″ – 2017 – "Pidgin hit the window from inside. It left behind this text which reads hoo no no go no. This is the phonetic form of the phrase Who no know go know."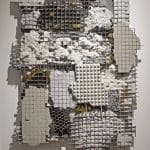 Sofia Plater: Newton, Massachusetts
Plater works with construction materials to create unexpected explorations of aesthetic possibilities. Her work evokes the conflict between natural and man-made architectures; she creates sculptures that are simultaneously organic and synthetic.
Work sample: Cement #2 – 2018 – Medium: Cement, silicone, plastic, metal, live moss – 23"x 30"
2018 Jurors: Saya Woolfalk; New Britain Museum of American Art Director Min Jung Kim; and Real Art Ways Executive Director Will K. Wilkins. The award competition was open at no charge to artists living in New York, New Jersey, Connecticut, Massachusetts, Rhode Island, Vermont, New Hampshire and Maine. 286 artists applied for consideration.